New Guidelines For Marriage In Gujarat 2022 Weddings limit of 150 people only For marriage, registration has to be done on Digital Gujarat Portal. Wedding Guidelines Gujarat
New Guidelines For Marriage In Gujarat 2022
We all thought 2022 would be the year the world would be rid of COVID. And for a while there in between, it seemed like that too- but 2022 is coming with the threat of Omicron and Deltamicron, so it really isn't going anywhere anytime soon- a fact that is sort of being confirmed by state governments all over the country who are clamping regulations and guidelines to keep the spread of COVID in check. If you have your wedding slated anytime soon, we are sure your panic, frustration and blood pressure both are all rising fast right now- and for good reason! Uncertainty seems to be in the air again. But take a look at the latest guidelines in your region- in a lot of places, especially big cities, the choice would be either to scale down the wedding, or postpone it by waiting to ride the wave out depending on how it goes, maybe to Feb-April 2022 for now. What are the new government guidelines for weddings in Gujarat ? What's the wedding guest limit? Are there any COVID banquet guidelines? – We are sure all these questions might be arising, and perhaps, causing stress. We are here to answer all those questions to the best of our abilities and sources!
Wedding Guidelines in Gujarat
Weddings are not allowed in public places like banquet halls or hotels, allowed only at court or homes with not more than 150 people.
Night curfew from 10 pm to 6 am.
લગ્ન માટે DIGITAL GUJARAT PORTAL પર રજિસ્ટ્રેશન કરાવવું પડશે
લગ્ન પ્રસંગો માટે નિયંત્રણો: ખુલ્લી જગ્યામાં માત્ર 400 લોકોની મર્યાદામાં યોજી શકાશે. બંધ અથવા ઇન્ડોર સ્થળે ક્ષમતાના 50% તથા મહત્તમ 400 લોકોની મર્યાદામાં લોકો ભેગા થઈ શકશે. લગ્ન માટે ડિજિટલ ગુજરાત પોર્ટલ પર નોંધણી કરાવવાની રહેશે. જો કે આ નિયંત્રણો હાલ 15 જાન્યુ. પૂરતા છે. આ તારીખ સુધી કમૂરતા હોવાથી લગ્નો યોજાશે નહીં. 15 જાન્યુ. પછી પણ નિયંત્રણોની મુદ્દત લંબાવાશે એવી શક્યતા છે.
Wedding Guidelines Gujarat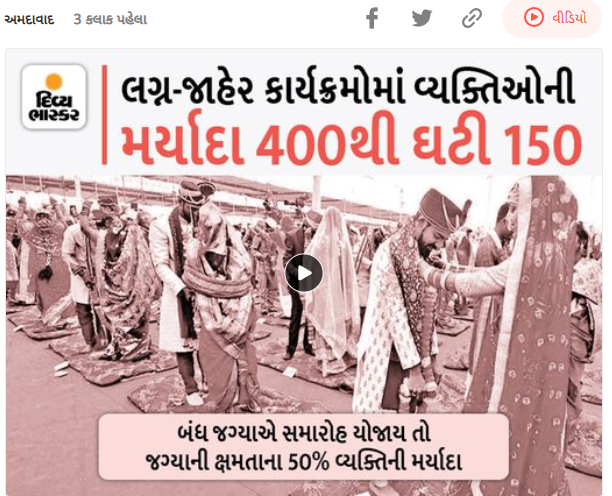 મુખ્યમંત્રી ભૂપેન્દ્ર પટેલના અધ્યક્ષસ્થાને મળેલી કોર કમિટીની બેઠકમાં કેટલાક મહત્વના નિર્ણય લેવામાં આવ્યા છે. આ ફેરફારો આવતીકાલે એટલેકે તારીખ 12મી જાન્યુઆરી 2022થી અમલમાં આવશે અને તારીખ 22 જાન્યુઆરી 2022ના સવારે 06:00 વાગ્યા સુધી અમલમાં રહેશે.
જાહેર કાર્યક્રમોમાં પણ 150 લોકોની જ મર્યાદા
કોર કમિટીમાં લેવાયેલા આ નિર્ણય મુજબ રાજ્યમાં તમામ પ્રકારના રાજકીય, સામાજિક, શૈક્ષણિક, સાંસ્કૃતિક ,ધાર્મિક કાર્યક્રમો જેવા જાહેર સમારંભો અને મેળાવડાઓમાં વધુમાં વધુ 150 વ્યક્તિઓની મર્યાદા રહેશે. બંધ સ્થળોએ યોજાતા આવા સમારોહમાં જગ્યાની ક્ષમતા ના 50% પરંતુ વધુમાં વધુ 150 વ્યક્તિઓની સંખ્યામાં યોજી શકાશે. રાજ્યમાં લગ્ન સમારોહ માટે ખુલ્લી જગ્યામાં 150 વ્યક્તિઓની મર્યાદામાં યોજી શકાશે. આવા લગ્ન સમારોહ બંધ જગ્યાએ યોજાય ત્યારે જગ્યાની ક્ષમતાના 50% પરંતુ વધુમાં વધુ 150 વ્યક્તિઓની મર્યાદામાં યોજવાના રહેશે. રાજ્ય સરકાર દ્વારા કોરોના સંક્રમણ નિયંત્રણ સંદર્ભે જારી કરવામાં આવેલી ગૃહ વિભાગની માર્ગદર્શિકા ની અન્ય બાબતો આગામી 22 જાન્યુઆરી 2022 ના સવારે 06:00 સુધી અમલમાં રહેશે.
Official Letter : Click Here
Guide line for fill up the form of marriage ceremony permission : Click Here
How to get marriage permission from digital gujarat portal :
Actually the process is very simple but you would get confused if you do not have account already. They have published the guideline also in the portal but if you are feeling difficulty in getting permission online then obviously it could be difficult to find the guideline pdf.
Don't worry we are here to help you. We will guide you from registering at the portal to getting the marriage permission online.
To get the permission from digital gujarat portal first you have to do is register in digitalgujarat.gov.in. So open www.digitalgujarat.gov.in
Now you will see button/link named register in upper right side corner.
once you find the link click on it and you will see registration form.
Enter Mobile number, email, password and captcha code in the portal.
Click on save button after entering and reconfirming all the details.
Now you will get OTP in the mobile number. Enter it for the verification and you are registered in the digital gujarat portal.
Now Re-open the home page of digitalgujarat.gov.in
Instead of clicking on the register button this time you have to click on login button.
Then select login using the mobile number or email id whichever is convenient for you.
Once you are logged in into the portal you will see your profile there.
Find "Request new service" link there and click on it.
There click on "Online registration for Organizing marriage function" option.
There fill up the form and upload the necessary documents.
Now click on submit button and you will get your marriage permission.
You can print out the permission as a hard copy for future use.
Required Documents needed for the permission are,
Any Document of marriage proof
Applicant Address proof
Any other Document
Digital Gujarat Portal Marriage Registration
If you have already used digital gujarat portal and if you have login credntial for the portal the you do not have to do the registration again. You can simply use the previous login credential and get the marriage permission right away.