OSSC ATO Syllabus 2022 : Odisha State, the registration process for the post of Assistant Training Officer has been completed.  OSSC ATO Syllabus 2022 Pdf ,Because for attempting the examination it has necessary to download the syllabus and also know about the OSSC Asst Training Officer Exam Pattern 2022 through which examination has going to happen.
OSSC ATO Syllabus 2022
Name of the Article
OSSC ATO Syllabus 2022 pdf! Asst Training Officer Exam Pattern
Conducted by
Odisha Staff Selection Commission (OSSC)
Also, the Name of the Post
Assistant Training Officer (ATO) posts
Selection Process
Written Exam
Personal Interview
Also Career Assessment Test
Category of Article
Syllabus & Exam Pattern
Availability of syllabus
Through Online
Location of Jobs
Odisha state
File Type
PDF
Type of Jobs
Odisha state government jobs
Official Link
www.ossc.gov.in
So as per expectation, the board has made OSSC Asst Training Officer Syllabus 2022 Pdf available through the official page. Because all the details are made available with the help of an online portal. So all those aspirants who are searching for the details about the syllabus and topics for which they can clear the examination can check here. Also, check the OSSC ATO Exam Pattern 2022 to know about what portion will help you score more marks.
OSSC Assistant Training Officer Syllabus 2022
Every year there has various positions available in the state government department. So for that our Odisha Staff Selection Commission has taken responsibility to organize the whole process of finding suitable candidates. Due to this now for the post of Assistant Training Officer the department has first decided to conduct written examination.
OSSC ATO Exam Pattern 2022
We trying our best to provide all the latest information for our users. So that they can use it for their benefit. Now as the department has uploaded the OSSC Asst Training Officer Exam Pattern 2022. Because of this many aspirants will get help by knowing about what section covers score and on which section they need to work hard for achieving their goal of recruitment. So the main purpose behind releasing details about the examination is to give the alert to the applicant that they need to prepare for the hiring given by the OSSC.
OSSC ATO Syllabus pdf Download
Check OSSC ATO Syllabus 2022 Pdf topics details :
Subject: Mathematics
Vector algebra
Complex numbers
Matrices
Partial fractions
Analytical geometry in two dimensions (straight line)
Binomial theorem
Determinants
Circle
Trigonometry
Subject : Physics
Electromagnetic induction
Planetary motion & simple harmonic motion
Dimensions and vectors
Magnetostatics & electrostatics
Curvilinear motion & kinematics
Sound & acoustics
Heat & thermodynamics
Electro-magnetism
Gravitation
Optics
Current electricity
Subject: Mechanics
Fundamentals of engineering mechanics
Dynamics
Friction
Centroid & moment of inertia
Simple machines
Equilibrium
Odisha ATO Syllabus 2022
Subject: Chemistry
Environmental chemistry
Organic chemistry
Inorganic chemistry
Physical chemistry
Industrial chemistry
OSSC ATO Exam Pattern 2022 Check details :
Serial Number
Name of the Subject
Total Marks
Firstly
Mathematics
100 Marks
Secondly
Physics
Thirdly
Mechanics
Fourthly
Chemistry
According to the pattern of examination, the question paper will be objective type. So for each question, there will be multiple choice of answers given in which applicants need to choose one answer which they think is correct. Most important the total maximum score for this examination has of 100 Marks. Before jumping to any conclusion we suggest reading the official details from the given procedure here through OSSC.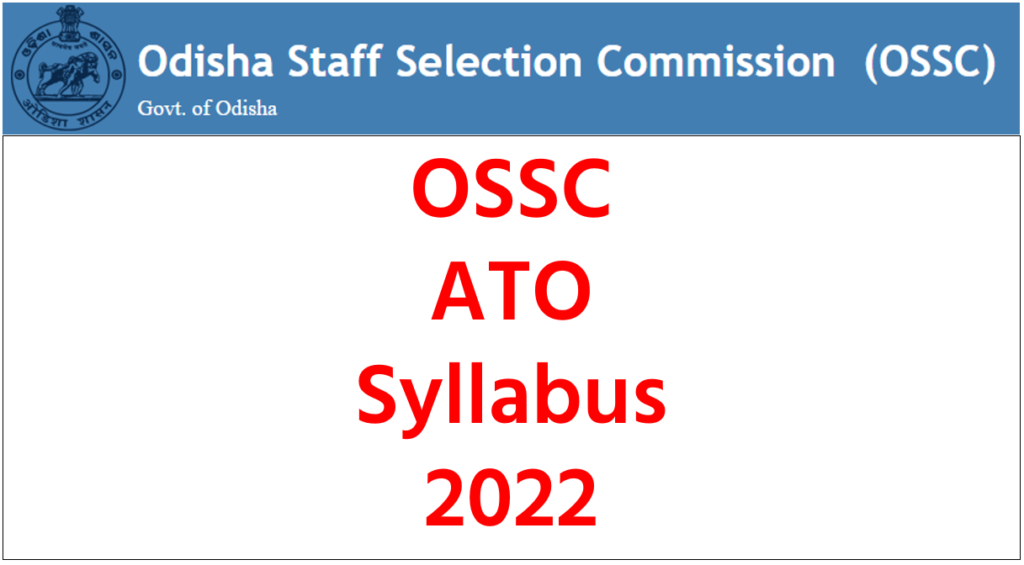 OSSC Syllabus 2022 pdf
Download Online OSSC Asst Training Officer Syllabus 2022 in pdf format with the given process :
At first, applicants have to go through the Official Website of the Odisha Staff Selection Commission i.e OSSC.
So on reaching a new page after clicking on the given link you can see the homepage of the portal.
Here you need to check details through the direct link.
Or you can also click on the link to the Latest Information section available for users on the homepage.
After that, a list of details appear on your browser which has mentioned by the authority on this page about the examination they are organizing
Then you need to click on the link of the OSSC ATO syllabus & exam pattern.
So a new page with a pdf file of the syllabus and exam pattern opened in a tab.
Finally, you can read all the details about the syllabus.