UP Board 10th Result 2022 : यूपी बोर्ड 10वीं की परीक्षाओं में शामिल हुए छात्रों का रिजल्‍ट का इंतजार जल्‍द खत्‍म होने वाला है. रिजल्‍ट की तैयारी अपने आखिरी फेज़ में है और जून के दूसरे सप्‍ताह तक रिजल्‍ट रिलीज़ कर दिया जाएगा. इस वर्ष लगभग 51 लाख स्‍टूडेंट्स ने बोर्ड परीक्षाओं के लिए रजिस्‍ट्रेशन किया था जिसमें से लगभग 48 लाख स्‍टूडेंट्स परीक्षा में शामिल हुए हैं. बड़ी संख्‍या में स्‍टूडेंट्स का रिजल्‍ट जारी किया जाना है.
UP Board Result 2022 Check 10th & 12th Class Result Here @ upmsp.edu.in: The Uttar Pradesh Madhyamik Shiksha Parishad has going to be released the Class 10th and 12th Result 2022 before 10th June 2022. The Students who eagerly waiting to check their respective results for UPMSP 2022 can check on the official website once the officials are released. The students who enrolled in Uttar Pradesh Board and appeared for the Board examination those pupils can check their respective Uttar Pradesh MSP Results on the official website check Out once the officials released the result. The 12th Class Result 2022 will be through the registered mail ID sent by the Board of Uttar Pradesh and Students can check their respective Mail id given at the school. The officials also released it on the website.
UP Board 10th Result 2022
Check the Uttar Pradesh Board Result 2022
Board Name
Uttar Pradesh Madhyamik Shiksha Parishad
Class
X Class and XII-Class
Exam Name
Annual Exam
Category
Board Result
Result Date
Before 10.06.2022 (will release)
Result Status
Available Soon
Exam Date
10th (X): 24/03/2022- 11/04/2022 12th (XII): 24/03/2022 to 20/04/2022
State
Uttar Pradesh
Website
upmspresults.up.nic.in, upresults.nic.in, & upmsp.edu.in
UP Board Class 10th & 12th Result 2022
रिजल्‍ट के दिन छात्रों को किसी भी परेशानी से बचाने के लिए बोर्ड रिजल्‍ट aajtak.in पर भी होस्‍ट किए जा रहे हैं. आधिकारिक वेबसाइट पर हेवी ट्रैफिक की संभावना से बचने के लिए छात्र आजतक एजुकेशन पर भी अपना रिजल्‍ट देख सकेंगे. इसके लिए केवल अपना रोल नंबर दर्ज करना होगा और एक ही क्लिक में मार्कशीट उपलब्‍ध हो जाएगी. छात्रों को सलाह है कि वे आजतक बोर्ड रिजल्‍ट पेज को अभी से बुकमार्क कर लें.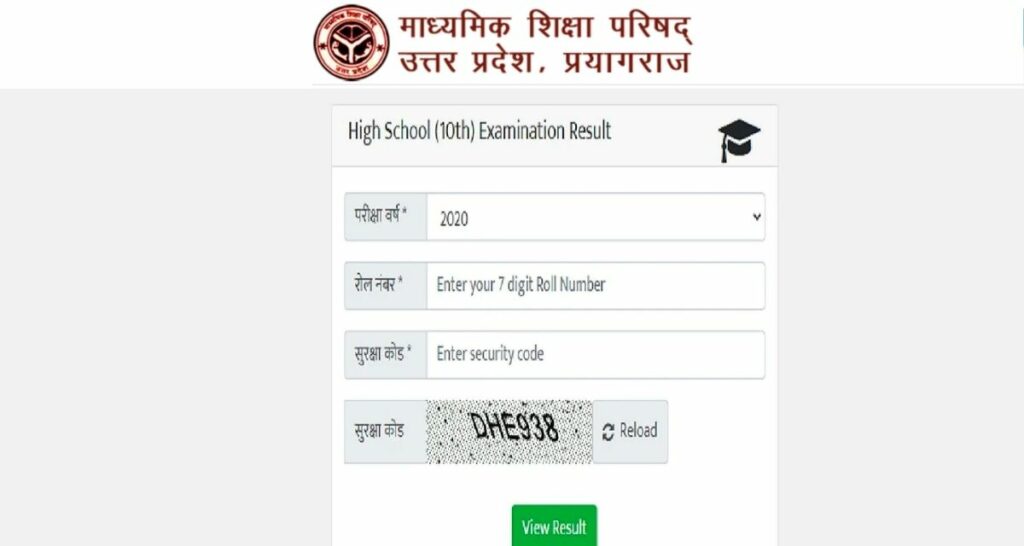 How To Check the UPMSP Result 2022
Visit the Board's Website
The Home page will Open
Scroll down and find the result link
The Students can able to see the Result Link
Once found the link Click on it,
Then the result Login Page will Open
Enter the Register Number and password then Submit
The Result is shown on the Screen
Check, Download, and take the printout of it.
एक बार जारी हो जाने के बाद, यूपीएमएसपी उत्तर प्रदेश बोर्ड 10वीं 12वीं परिणाम 2022 आधिकारिक वेबसाइट upresults.nic.in के माध्यम से डाउनलोड किया जा सकता है।
यूपी बोर्ड हाई स्कूल रिजल्ट 2022 PDF
उत्तर प्रदेश बोर्ड ने मार्च और अप्रैल के महीने में यूपी बोर्ड कक्षा 10वीं, 12वीं की परीक्षाएं आयोजित की थीं। रिपोर्ट्स के अनुसार, यूपी बोर्ड परिणाम 2022 जून महीने में जारी किया जाएगा। हालांकि, यूपीएमएसपी ने अभी तक किसी भी आधिकारिक परिणाम की तारीख की घोषणा नहीं की है।